-Material:ABS
-Product Size:145*78*97.2MM
- Temperature unit between Celcius and Fahrenheit Switch
-CO2 Technology : infrared ( NDIR)
-PM2.5 Sensor technolology : Laser Scattering
-HCHO/TVOC :Electrochemistry sensor
CO2 Detection range: 400-5000 ppm
PM2.5 Detection range : 0-999 ug/M3
AQI Detection range: 0-500
HCHO Detection range:0.001-1.999Mg/M3
TVOC Detection range: 0.001-9.999Mg/M3
-History Records save.
-CO2 Alarm value : 1000ppm
-CO2 Alarm on /off function(if users do not like alarm ,people can turn it off by hand operation)
-Power supply:rechargeable Li-battery 3000mah includding USB Chargeing cable
-Included:Main Unit+manual+charging cable

Advantage :
-Integrated detection with CO2/Temperature/Humidity/PM2.5/PM1.0/PM10/HCHO/TVOC
-Auto calibration
-Exceeding Alarming with auto detection and measuring
-Different interface switching.
- History Records save
-Temp unit: Celcius and Fahrenheit Switch
-Alarm sound set: On and off

DM72B package details:
Product N.W.:225g
Product G.W.:460g
Package Dimension:18.7*11.5*10.3cm
CTN Dimension:56*28*42cm
CTN Weight:10.5KG
20sets/CTN
Product Specifications
Display method: 4.3" LCD screen display, 320 x 240 pixels
Atmospheric pressure: 86Kpa - 106Kpa
Detection method for PM: Laser Scattering
Sampling time: 1.5 seconds
Product Size: 145 x 78 x 97.2mm
Detection temperature: -10°C to 50°C; 14°F to 122°F
Relative humidity: 20% - 85%
Storage temperature: -10°C to 60°C; 14°F to 140°F
Concentration unit for HCHO and TVOC: mg/m3
Power source: Lithium battery with 3000 mAh capacity; 5V DC power charging via micro USB port
Product weight: 460g
Product Description
This product is a multifunctional air quality detector that detects CO2 (Carbon dioxide),Formaldehyde (HCHO), Total Volatile Organic Compounds (TVOC), Particulate Matter <2.5 micron-sized particles (PM2.5/1.0/10), Temperature, and Humidity with clock and record function. As a scientific air quality detection device, it combines multiple air sensors with a built-in fan to allow real-time monitoring of CO2 (Carbon dioxide),Formaldehyde (HCHO), total volatile organic compounds (TVOC), PM2.5/1.0/10, temperature, and humidity on its digital LCD display.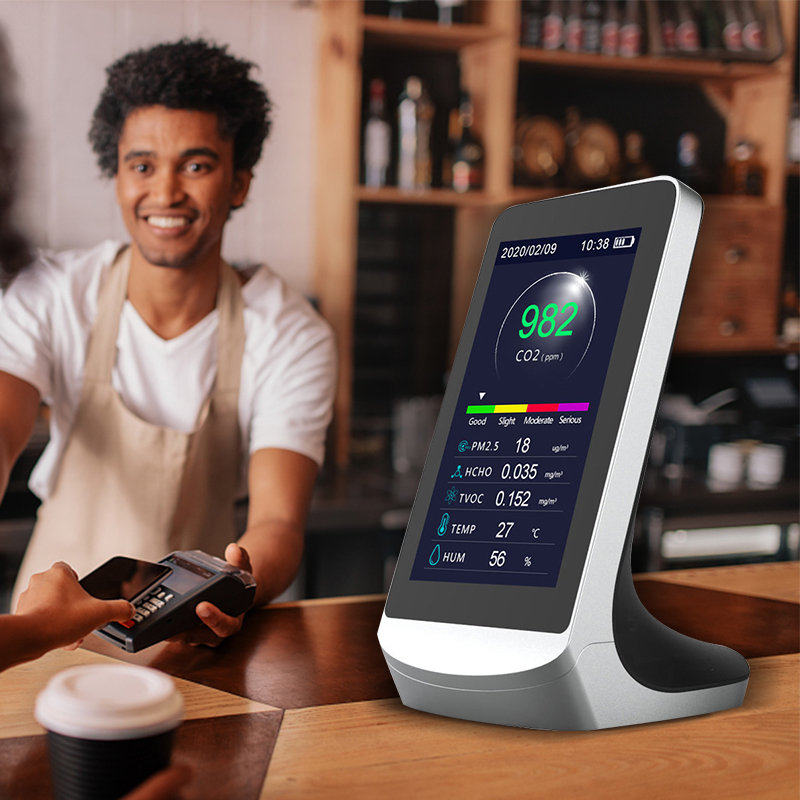 Features:
-4.3" color liquid crystal display (LCD), 320x240 pixels
-Test variables: CO2,PM2.5/1.0/10, formaldehyde, TVOC, temperature, humidity
-Large 2000mAh capacity Lithium battery
-On-board fan to draw in ambient air for more accurate real-time results
-5V Micro USB charging
-Low battery warning
TVOC ideal range: <= 0.6 mg/m3 (0.45 ppm/m3)
The formaldehyde alarm threshold is 0.1, If levels of HCHO exceed the set formaldehyde alarm threshold, the device will alarm with short beeps.( if you want higher formaldehyde alarm threshold, it is also possible for us to change it on software . if ou want to cancel alarm beeps ,it is also possible . )
About Charging
When low battery icon is displayed, the device needs to be charged. Insert the included or another compatible micro USB charging cable into the device. Attach the other end to a USB DC charger (such as a smartphone charger) that outputs DC 5V at >=1000mA. Fully charge for at least 2-3 hours before use. Avoid charging with a USB computer port which only outputs 500mA.

Product List
Air Quality monitor x 1
Micro USB charging cable x 1
Product Manual x 1