Product Specifications


Display method: 2.8" LCD screen display, 320 x 240 pixels
Atmospheric pressure: 86Kpa - 106Kpa
Detection method for PM: Laser Scattering
Sampling time: 1.5 seconds
Product Size: 164 x 69 x 44 mm
Detection temperature: -10°C to 50°C; 14°F to 122°F
Relative humidity: 20% - 85%
Storage temperature: -10°C to 60°C; 14°F to 140°F
Concentration unit for PM (PM2.5/1.0/10) : ug/m³
Concentration unit for HCHO and TVOC: mg/m³
Power source: Lithium battery with 2000 mAh capacity; 5V DC power charging via micro USB port
Product weight: 183g
Product Description
This product is a multifunctional air quality detector that detects Formaldehyde (HCHO), Total Volatile Organic Compounds (TVOC), Particulate Matter <2.5 micron-sized particles (PM2.5/1.0/10), Temperature, and Humidity with clock and record function. As a scientific air quality detection device, it combines multiple 4 high-precision independent air sensors with a built-in fan to allow real-time monitoring of formaldehyde (HCHO), total volatile organic compounds (TVOC), PM2.5/1.0/10, temperature, and humidity on its digital LCD display.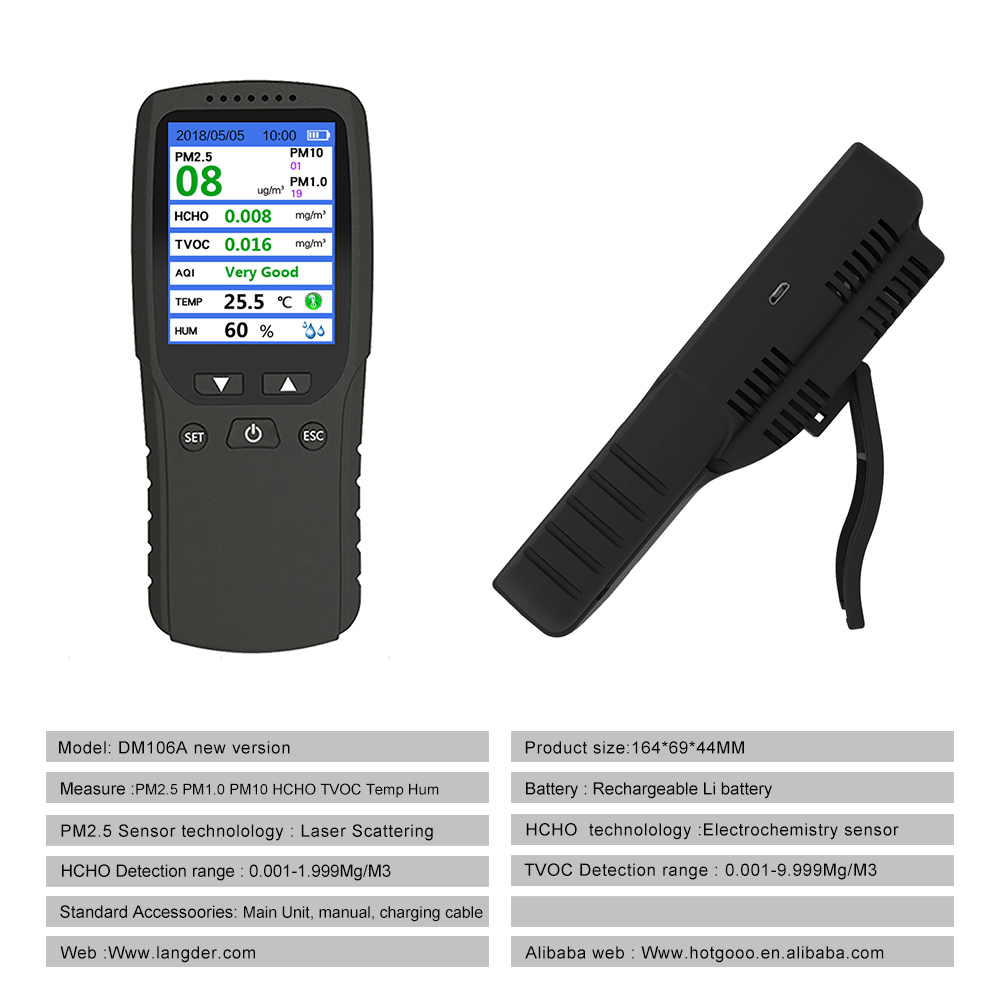 HCHO (formaldehyde) ideal range: <=0.10 mg/m3 (0.08 ppm/m3)
TVOC ideal range: <= 0.6 mg/m3 (0.45 ppm/m3)
The formaldehyde alarm threshold is 0.1 mg/m3. If levels of HCHO exceed this alarm threshold, the device will alarm with short beeps.